Action Research Paper Teen Vilonce
Project summary - PI.17.08
Perpetrator interventions strategic research priority 3.3: Models to address diversity
The PIPA project aims to improve evidence on the prevalence of adolescent violence in the home (AVITH) as it presents in different justice and service contexts; its co-occurrence with other issues and juvenile offending; and current responses and gaps in service delivery. This project has two separate but complimentary research approaches. 
The first will use: a literature review; quantitative and qualitative data collection and analysis, including interviews and focus groups with practitioners from courts, family violence services, ChildFirst, family services, legal services, youth and education services; court observations as well as a mapping of the legislative, regulatory frameworks along with policy and service responses across the three jurisdictions; to examine the prevalence of AVITH and current responses to it across Victoria, Tasmania and Western Australia.
Secondly, an Innovation Case Study is proposed using action research approach to track changes in legislation, policy and practice during the implementation of the Victorian Royal Commission into Family Violence recommendations. The Victorian case study will provide learnings to support the development of integrated responses and practice in other jurisdictions whilst supporting local implementation through its action research based framework.
The research team will be supported by a project steering group enabling information exchange between, with and across sectors and to senior government officials. Changes in practice and ongoing gaps in service delivery identified through surveys of practitioners and by steering group members will support ongoing implementation and provide learnings for other jurisdictions.
Researchers
Project lead
A/Prof Rob Hulls, RMIT University
Research expertise
 Ms Elena Campbell, RMIT University
Dr Helen Cockburn, University of Tasmania 
Practitioner expertise
Ms Jo Howard, Kildonan UnitingCare
Ms Rosy Jolic, Victoria Legal Aid
Ms Be Westbrook, Peel Youth Services
Ms Maureen Kavanagh Legal Aid, Western Australia
Research partners
Establishment of a steering group including:
President of the Children's Court of Victoria
Commissioner for Children and Young People
Commissioner for Aboriginal Children and Young People
Assistant Commissioner, Victoria Police, Family Violence Command
Family Violence Program Manager, Victoria Legal Aid
Executive Director, Jesuit Social Service
Chair, Victorian Association for Restorative Justice
Family Violence Program Manager, Good Shepherd
Sexual Assault and Family Violence Program Manager, Department of Justice & Regulation
Youth Justice Manager, Department of Health and Human Services
Family Violence Program Manager, YouthLaw
CEO, Women's Legal Service
Executive Director or Policy Officer, Domestic Violence Victoria
CEO or Policy Officer, No To Violence
Presentations
On 27 April 2017, the Centre for Innovative Justice (CIJ) held a forum focusing  on Family Violence: Responding to the Next Generation at the State Library of Victoria. Facilitated by Rob Hulls, Director of CIJ.
Recording from the October forum, in Perth
Project length
2 years
Budget
$168,221
Teen Dating Abuse
NEED IMMEDIATE HELP?
If you, a friend, or loved one are possibly in a abusive relationship, call the Love Is Respect teen dating violence hotline at 1 (866) 331-9474 or text "loveis" to 22522 for assistance.
Everyone deserves to be in a healthy and safe relationship. Communication is key to exercising mutual respect, establishing healthy boundaries and understanding each other's needs.
Unfortunately, as teens form their first romantic relationships, they often are unclear about what constitutes a healthy relationship.
Often, verbal and emotional abuse erodes girls' self-esteem, making it more difficult to summon the courage to tell someone about the abuse, let alone end the relationship.
1 in 5 teens in a dating relationship report being hit, slapped, or pushed by their partner.

LoveIsRespect.org
What are the biggest issues facing girls today?
Our survey of 412 girls in 22 different countries found:
We consulted with girls around the world to better understand their personal obstacles. These girls reported, overwhelmingly, multiple challenges and sources of stress—violence, dating, peer pressure, depression, lack of self-esteem, and family or cultural expectations.
82% of parents thought they could recognize teen dating violence but more than half couldn't identify the warning signs.

LoveIsRespect.org
To take full advantage of the potential of girl power, we must take the next step—to end violence against women and girls and invest in more resources for the next generation of women.
Take girl power to the next level.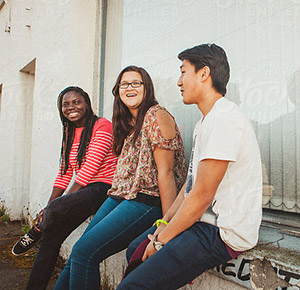 It starts with an understanding of what constitutes a healthy relationship.
The action goals are simple: educate teenagers, parents and school personnel about teenage dating violence; promote an understanding of healthy vs. unhealthy relationships; and provide programs to empower girls—Dream It, Be It.
"Dream It, Be It gave a feeling of relief and comfort. I felt I had a voice."
Learn More about Dream it Be it
You can help stop teen dating abuse by educating parents and—most importantly— teens about teen dating violence and the differences between healthy and unhealthy relationships. Take girl power to the next level by encouraging local schools to adopt the Dream It, Be It curriculum.
Learn More
Infographic: Teen Dating Violence
Love shouldn't hurt. Know the facts, understand teen dating abuse and recognize the signs to ensure young women know what a healthy vs. unhealthy relationship looks like.
Research Paper: If She Can Dream ItProviding Role Models and Mentors for 21st Century Girl Empowerment. Research informing Dream It, Be It: Career Support for Girls.